The Compelling True Story of                                                                            America's First Leading Female Jockey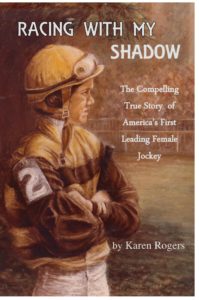 Racing With My Shadow, written by Karen Rogers, is a gripping autobiography of one of the first successful female jockeys. It is a story of tragedy and triumph both on and off the racetrack. Fast-paced, captivating, honest, and entertaining, this psychological journey inspires hope for those who have endured a difficult past.
 AVAILABLE NOW AT AMAZON!
FEATURED ON RADIO AND INTERNET PROGRAMS:  
July 28, 2017      Mike Kerr "Hear the Watchmen Journey"
August 2, 2017   Scott Hensler "Tin Foil Hat Club"
August 3, 2017   John B. Wells, "Caravan to Midnight"
Sept 19, 2017      Paul Begley
Oct 15, 2017       Victurus Libertas
Nov 5, 2017         Danny Morano
Nov 29, 2017      "Discovering the Truth" with Dan Duval
Dec 21, 2017       Ted Broer Show
SPEAKING ENGAGEMENTS AND BOOK SIGNING EVENTS:
May 19, 2017      Black-Eyed Susan Day – Pimlico, Md
June 9, 2017        Belmont Stakes weekend – Belmont Park, Elmont, NY
July 14, 2017       Women's Book Club – Jackson, NJ
August 5, 2017    Northshire Bookstore – Saratoga, NY
August 6, 2017    Saratoga Racing Museum – Saratoga, NY
August 17, 2017  Senior Women's Group – Maplewood, NJ
August 21, 2017  Bernardsville Library – Bernardsville, NJ
August 27, 2017  Monmouth Park Race Track – Oceanport, NJ
October 11, 2017 Peapack-Gladstone Library – Peapack-Gladstone, NJ
October 21, 2017 Califon Book Shop – Califon, NJ
January 11, 2018 Women's Group – Denville, NJ
February 5, 2018  Women's Shelter – Somerset, NJ
March 22-25, 2018  Hear the Watchmen conference – Dallas, TX